LOTO PADLOCKS – THE 3PTP™ (3 Point Traceability Padlock)
LOTO BLOG – 6
The ubiquitous plastic padlock used for immobilizing a wide range of energy sources in lockout tagout programs has come a long way in 30 years from the date when OSHA enforced energy isolation guidelines on industry to prevent injuries and fatalities in the workplace.
The metamorphosis of the LOTO padlock over the past few years has led to several additional features being inculcated along with a higher degree of tamper resistance and traceability by various manufacturers.
CONSIDER THIS:
For over 2 decades, the market was dominated by 2 American brands who made plastic padlocks which had little or no information other than a number lasered on the key.
Additional features viz: individual names, logos and key number engraving on padlock body were customized at additional costs to be incurred by the buyer.
The key system of the padlock, ie: Keyed Different OR Keyed Alike OR Master Keyed was generally recorded in the system but did not appear anywhere on the padlock. In the event of key loss or misplacement informed decisions could not be made on whether the lock had to be destroyed or if a spare key was available.
Padlock covers to protect dust, dew and grit ingress were available as an additional product from some manufacturers.
THE 3PTP STORY:
As a relative newbie in the LOTO scene in 2011, we were always brainstorming on how we could add value and address gaps to provide additional features out-of-the-box to save downtime on tracing keys to locks, knowing the key system without having to refer to documents as well as retrieving keys quickly from cabinets to open locks during the re-energization process.
The 3 Point Traceability Padlock (3PTP) was born from various inputs derived from end user interactions.
The features we inculcated into the padlock helped save substantial downtime and increased the life of the padlock with it's weather protection features.
Key system molded on body and one side of key – KD (Keyed Different), KA (Keyed Alike), KD+MK (Keyed Different + Master Keyed).
Key number lasered on padlock body and key enabling quick key to lock tracing.
Key jacket matching padlock color resulted in saving substantial downtime when tracing keys from cabinets.
A sliding key cover which prevented dust, grime, dew and grit ingress into the cylinder.
2 additional rubber bushes which if needed could be installed on the shackle to prevent ingress into the plastic body of the padlock.
SUCCESS LIES IN THINKING FROM THE CUSTOMER VIEWPOINT:
The patented 3PTP padlocks were launched in 2012 and over time ended up establishing the gold standard for energy isolation padlocks. The popularity increased over time leading to most customers specifying the 3PTP features as a minimum standard for their LOTO programs thereby forcing the competition to comply.
Not content to rest on our laurels, we kept working on improvements to make a more aesthetic + higher tamper resistance padlock.
REVAMPING THE 3PTP OVER A DECADE:
Steel chrome plated shackle changed to SS304 to prevent corrosion in chemical / saline atmospheres.
Normal plastic non-conductive shackle re-engineered with a stainless steel metal insert. The 3PTP had a 5.0mm shackle diameter as standard which was more susceptible to breaking than the standard 6.0mm version on other brands. To enhance the cut / break resistance, we inserted a SS304 metal rod internally and molded over with a hard bearing PA6 nylon end to end.
Colors were revamped from slightly darkish to a more brighter range thereby increasing visibility.
The individual box packing was redesigned with a transparent window allowing color and key number visibility without having to remove the padlock.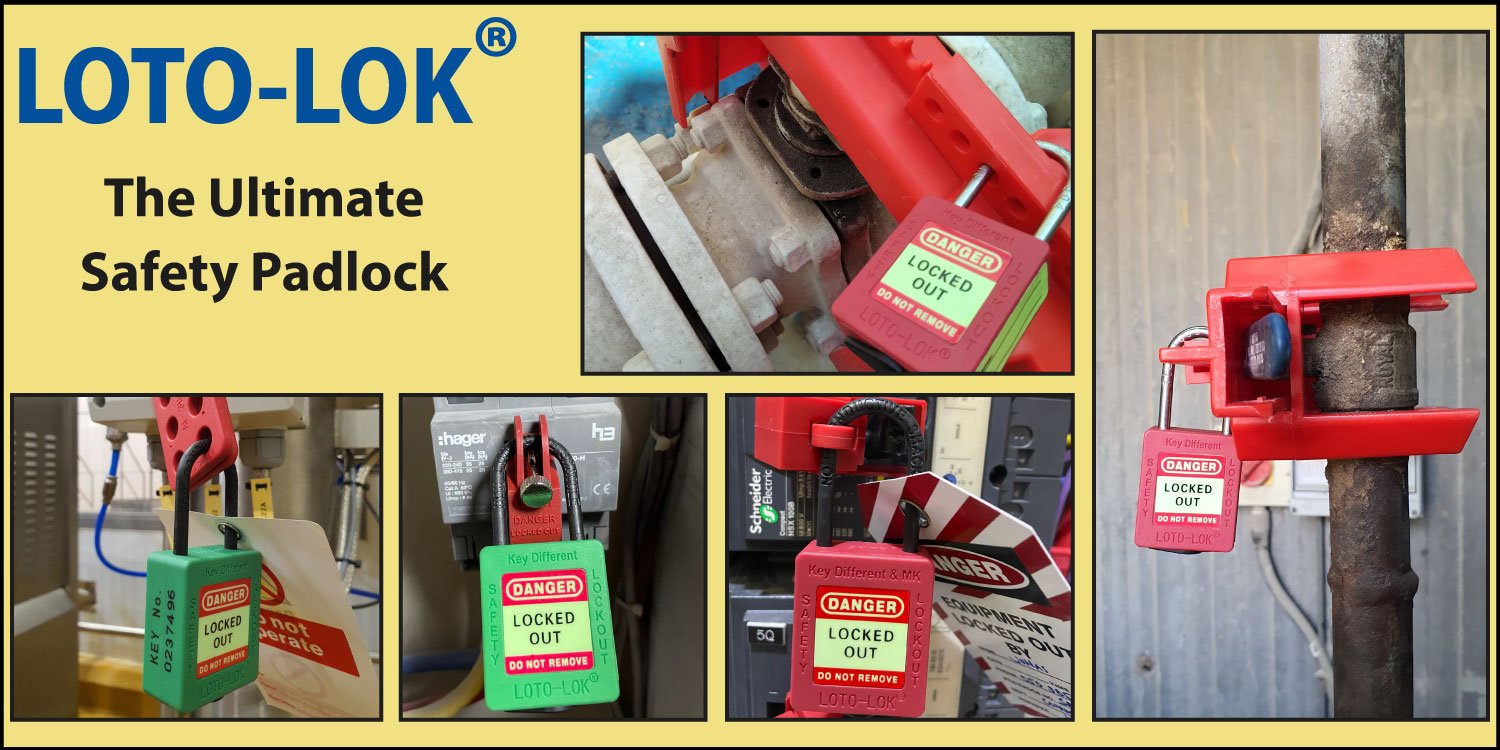 * The author of this blog is Qaid Zohar – Director at LOTO Safety, Dubai.
This blog is written to educate interested parties on Lockout Tagout products.